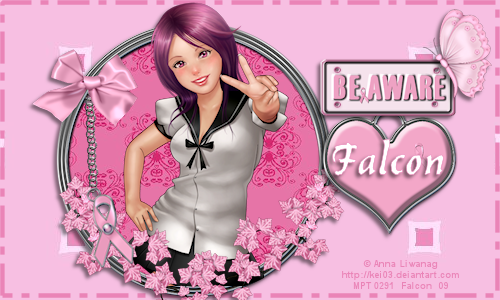 PSP – I used X2 but will work in any version
Font of choice - Balthazar
I used the beautiful artwork of Anna Liwanag you will need
to purchase a license to use this work.
You can be purchase from Here
Please do not use this tube unless you have a license to use.
Breast Cancer Aware kit by BlueDreams a FTU Here
Layers open a new image 500 X 300
Open paper 2 copy and paste resize.
Copy and Paste Frame 4 resize.
Click inside frame with magic wand making sure you click on all areas.
Selections – modify – expand by 4
Selections – Invert –Delete.
Give it a light Drop shadow
Copy and paste tube resize, using the erase brush remove anything below the frame.
Give your tube a light Drop Shadow.
Copy and Paste Pink Ivy resize by 50% and place on bottom of frame
Duplicate and drop shadow.
Copy and paste BCA license plate and resize, drop shadow. Place in center off to the right side.
See my tag for placement.
Copy and Paste butterfly2 and resize drop shadow and see my tag for placement.
Copy and Paste small charm – resize, place below license plate. Give a light Drop Shadow.
Copy and paste Ribbon charm 2 –resize and place over the other one above the ivy,
Give this a light drop shadow.
Using your preshape tool set to square, choose a line style.
Click out the background color and draw outline around the outside.
I gave mine a light Drop shadow.
Layers, merge, merge all flatten'
Add your artist © and your name or watermark. Save and your done!
Copy write Falcon aka Maree 2009
I would love to see your result. Thank you for trying my tutorial
This Tutorial was written by me, Falcon, on the 7th May 2009
Any similarity to this tutorial is purely coincidental.
Please do not copy or claim as your own.