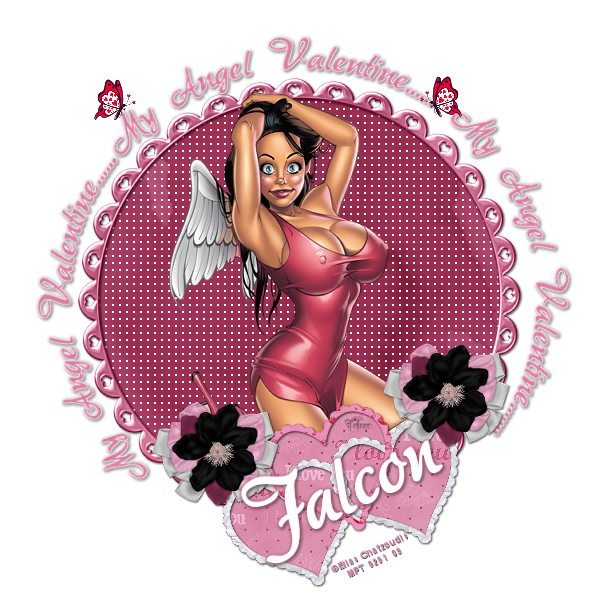 PSP – I used X2 but will work in any version
Tube of choice
I used the beautiful artwork of Elias Chatzoudis
You can be purchase from
Here
Please do not use this tube unless you have a license to use.
Scrap Kit FTU With Love by Pimp My Scrap Book
Here
Font of choice -I used akaDora
Drop Shadow of choice
Layers open a new image 600 X 600 (we can resize later)
From your scrap kit and copy and paste as a new layer the scalloped frame - resize by 85%.
Add a drop shadow of choice.
With magic wand click inside circle and go Selections-Modify-Expand by 3 then
copy and paste paper 3 Selections-Invert-hit delete then select none.
Effects-Texture- Effects Weave with these settings
Place under the frame.
Open your tube copy and paste and center the tube look at mine for placement.
Add a drop shadow of choice.
Open heart frame 1 and 4 resize by 50% then again by 50%.
Duplicate frame 4 then Image –Free rotate one frame 25% left then the other to the right.
Place both under the frame 1 close out other layers and then merge.
With your magic wand click inside the frames then copy and paste paper 7 as new layer
Then Selections- Invert-Delete select none. Layers merge-merge down.
Give this a drop shadow of choice.
Arrange heart frames at bottom of Scalloped frame.
Open flower bow resize by 50% then copy and paste as a new layer.
Add drop shadow of choice.
Click on preset shape and select circle-close the background and draw a circle around your scalloped frame. Do not convert yet select your Text tool-select a font type out the words
Happy Valentine's Day …
Now where the + is click on this layer then X out the circle then convert to raster layer.
The circle will disappear.
Effects-Eye Candy-Grandient glow
Set the Width to 3.00 and the color to white – thin.
Add a drop shadow of choice.
Add your © and your name or watermark. Resize and crop.
Save and your done!
I would love to see your result. Thank you for trying my tutorial