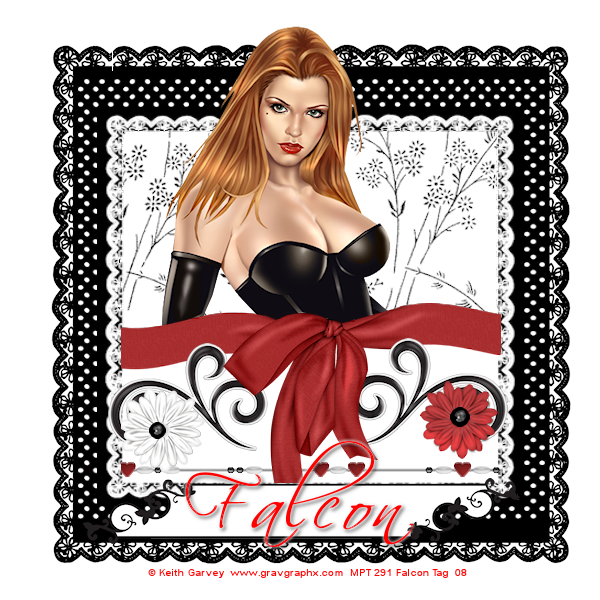 PSP – I used X2 but will work in any version
Tube of choice

Font of choice

Eye Candy 4000
Simply Chic Scrap Kit (PTU) can be found at Misfits Scrapz
Here
I used the artwork of Keith Garvey you will need to purchase a license to use his work
and can be purchase from
Here
Open a new image 600 X 600 (we can resize later)
Open your tube and papers and any embellishments you wish to use
Layers new raster flood fill with white
Find background paper 8 and resize by 20% copy and paste as new layer
Find paper 6 resize x 20% then copy and paste use you deform tool to resize see my tag.
Then find paper 7 again resize by 15% copy and paste
Select ribbons and with selection tool copy the top ribbon and paste as new layer about the middle of the layer
Resize to fit paper 7 see tag for placement.
Selection tool –Magic wand click above the ribbon on paper 7 then choose a paper – copy and paste as a new layer
Resize by 15% then Selections – invert- delete, then move below paper 7
Don't deselect –Edit copy tube and place above paper 7 resize by 75% then duplicate, go back to original,
-delete then Selections select none or Crtl D
Place the edited tube below the frame then click back to duplicated copy of tube and then
Selection tool – Selections make a oblong shape below the ribbon to erase part of the tube
we don't want to show-hit delete then select none.
Select the middle bow –copy-paste as new layer then resize –place in the middle of ribbon.
Select tag copy –paste as new image resize.
Add any other embellishments of choice.
Font I used - Scriptina

Color #FF0000

Gradient Glow

3.00
25.00
100
Color
White

Effects-Drop Shadow
2
2
50
4
Add your copyright, watermark and name.
Resize and crop.
Save and your done!