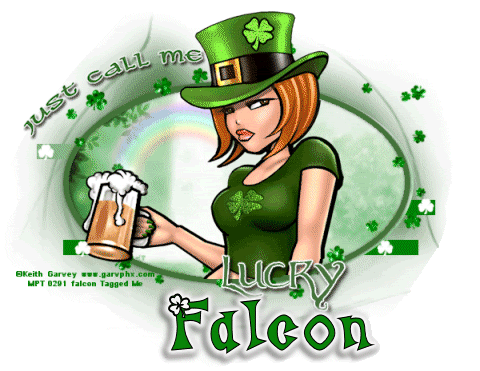 Supplies Needed
PSP – I used X2 but will work in any version
Font: I used LD Clover
Tube of choice or the one I use by the Artist Keith Garvey .
You can Purchase from
MPT
Okay let's begin
Open Template - Ctrl + D to copy and close the original.

Select Magic Wand / click inside bacl layer Selections / Modify / Expand by 4.

Open Feeling Luck Paper 9, Copy / Paste move around till you have the desired area then Selections / Invert / Delete. Selections / Select none.

Open your tube of choice Copy / Paste move to the right side,using the eraser tool, erase the bottom of tube showing below oval.

Open Feeling Luck Rainbow Copy / Paste resize and place on left hand side above the mug.

Select Layer Strip 1 Selections / Float / Defloat / Copy / Paste paper of choice. Selelctions / Invert / Delete. Select none.

Now do the same for Layers Strip 2 and 3.

Add Artist © and your name. Thats it save as and your done.Crop and resize.

If you want to animate the Shamrocks then please read on.
Please Do not save or crop just yet!!!

Open Animation Shop.

Now click back into Psp
Select the Freehand selection Tool and outline both Shamrocks -( tube layer) the hat and shirt.
On the selected shamrocks layer.
Adjust / Add/Remove noise set to Uniform - Noise 40 and box ticked select Ok. Edit / Copy special / Copy Merged. Click on AS then Paste as "New Animation".

Back in Psp click undo, then Adjust / Add/Remove Nosie but this time Noise is 45.Repeat as above. Click into AS, paste "After current Frame".
Repeat again but this time Noise 50, and then paste in AS.
Click on frame 1 then Ctrl+A to select all. View / Animation. now you can resize your animation. Save as a gif.
Thats it your done. Thanks for trying my tutorial I hope you enjoyed it.

Copy write Maree aka Falcon March 8th 2010